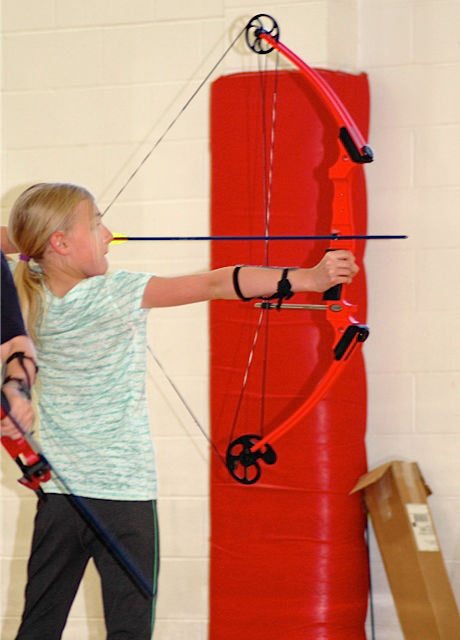 Press Release Archery Donation
Gallatin Gateway, MT – The Southwest Montana Safari Club International Board gave Gallatin Gateway School $1000 towards the purchase and repair of archery equipment. With the grant, GGS is purchasing new targets, a left-handed bow, armguards, and more arrows for student use. Every student must pass skills covering safety, vocabulary, rules, and procedures before beginning shooting. Archery lessons run for several weeks during grades 4 – 8 Physical Education classes. Students will participate in a shooting contest at the end of the semester.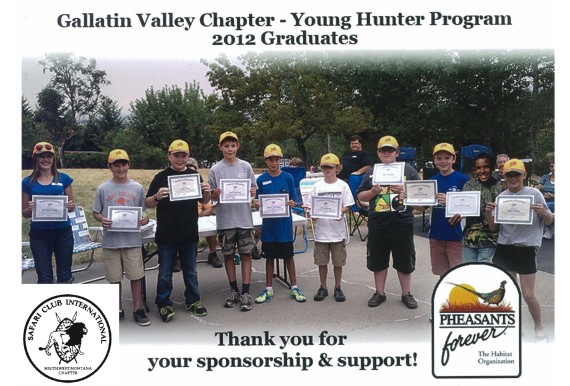 Gallatin Valley Young Hunter Program Sponsor with Pheasants Forever contributed to a highly successful pilot project, now being widely copied elsewhere.  Enrolling interested and qualified youth, with mandatory attendance by their parents, in a program of teaching conservation and gun safety basics, followed by actual field experience in upland bird hunting.  The process lasts for three full months, teaches the value of hunting with dogs, and is monitored by experienced dog handlers.  The result has been enthusiastic reception by the youth–and their parents–of upland bird hunting as a family recreation.
SPORTSMEN AGAINST HUNGER –  Paying processors to process game donated by hunters, which is  then given to local Food Banks for distribution to the needy.  In seven years, our Chapter has paid for the distribution of over 54,000 lbs. of nutritious game meat to needy persons in the Belgrade, Bozeman, Livingston, Big Timber and Gardiner areas.
AWLS – THE AMERICAN WILDERNESS LEADERSHIP SCHOOL & National Archery in the School–  located near Jackson, Wyoming. The Chapter has pays for Teachers to attend this week-long school, enphazing hunting's role in wildlife conservation.
TONGUE RIVER RANCH –  Helped purchase the 20,000-acre Tongue River Ranch south of Miles City, with five miles of frontage on the Tongue River, which will allow public access in perpetuity.
HELPED PURCHASE several hundred acres of land East of Denton, MT, which connects several thousand acres of Block Management and Public property, ensuring public access also for deer, pheasants, sharptails, predators, and recreational activity.
AMERICAN PRAIRIE FOUNDATION –  Contributed to the efforts of this Foundation, to establish  an "American Serengeti"  in Central Montana with over 80% of the acreage open to the public.
STATE 4-H.  Chapter funded the training of people on the State level, who would become local 4-H leaders, who would teach–among other things–gun safety & safe and ethical hunting.
PURCHASED MOSQUITO NETTING for several years, in conjunction with the annual visits of  a MALE NURSE who administered medical treatment to several native tribes/villages in South  Africa.
PURCHASED Equipment for the Montana State Department of Fish, Wildlife and Parks.
FINANCED A TRIP–a life-long dream–to Africa for a paraplegic hunter.  
PAID FOR TRAVEL EXPENSES for world-class members of the Belgrade, MT. Air Rifle and Rimfire shooters to World Championship Matches.
CONTRIBUTED TO A BANOVICH-SPONSORED lion research study in Kenya, which aimed to show how an economic asset–lions– was being wasted by poisoning, trapping, and killing them, rather than counting millions of dollars in revenue from controlled hunting.
Colaboration with other state SCI Chapters and MOGA on numerous legislative and humanitarian issues.
CONTRIBUTED Support to Cheritizi River Black Rhino Trust/Anti-Poaching Force for the protection on Rhinos and conservency of wildlife in general – Buffalo Range, Zimbabwe.
Chapter Representation at National SCI meetings.